Brain Droppings by George Carlin. This recent book highlights Carlin's sarcastic brand of humor. He mines his 30 odd years as a standup comedian for some real pearls. Once a very controversial figure (he went to court on obscenity charges), he now reminds us of our irreverent youth.

The Hitchhiker's Guide to the Galaxy by Douglas Adams - This hilarious science fiction book about the adventures of Arthur Dent who is plucked off the Earth moments before it is demolished to make way for a new galactic freeway. Don't Panic! Have a Pan-Galactic Gargle Blaster, and don't forget to bring your towel!
---

The Restaurant at the End of the Universe by Douglas Adams. Another fine romp across the galaxy with Arthur Dent. This one goes to the end of time, where a restaurant serves you whatever you want while you wait for the end!

The Complete Crumb Comics : Happy Hippy Comix Vol. 5
Robert Crumb created that hippie icon, Mr. Natural and produced an array of far out characters like Fritz the Cat and Zap Comix . This collection is a must for those who dig the Crumb style.

The Book of Mr. Natural - R. Crumb Mr. Natural does his thing with Flakey Foont and Devil Girl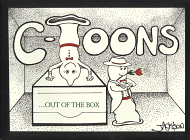 C-Toons...Out of the Box - Jack Ericsson A whole book of hilarious condom cartoons!